Agent Statements
To locate an agent statement select "Statement" button.
·Select the icon shown in Figure 8.
Figure 8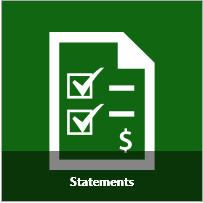 Your statements are listed in date created order, so should be listed by month published. Locate the statement to view and click to open. Your statement will launch and allow you to view it.
Note - when you launch the statement it is copied to your local drive. You can save it to your local desktop for review at your convenience. Any edits you make on this copy does not affect the original. You can come back anytime to review the original.